Smart Home and Home Cinema System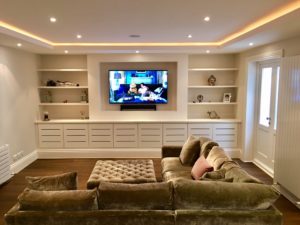 More and more homes are taking advantage of the smart revolution, and here at Bright Electricians, we are more than happy to introduce you and your family to a world of unlimited entertainment that seamlessly blends into the design of your home.  We are bespoke multimedia and home cinema specialists in London – from integrating lighting, surround sound speakers and smart controls to setting up a colossal screen, it's just like going to the cinema – but it's in the comfort of your own home.  Our home cinema systems are built with impeccable sound and visual quality in mind – as well as ease of use.  We will work closely with you to help build you a custom home cinema system to your exact requirements – our designers and consultants have years of experience in preparing and installing spectacular home entertainment systems London and elsewhere – meaning that if you have your heart set on bringing that electric movie experience home, we're the team to call.
Our dedicated and experienced smart home crew will guide you through the various choices available to you in terms of audio and visual design.  We're in a prime position to supply multiroom AV, full cinema rooms and simple smart entertainment suites throughout the home – blending seamlessly into your existing décor and with minimal disruption to your routine and style.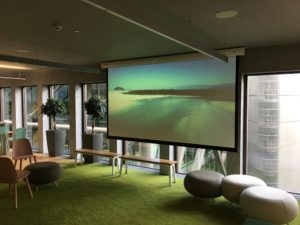 It doesn't just end at home cinema installations, either.  Smart home design can allow for complete control and access over your lighting, your heating and even your curtains and blinds – with the touch of a control panel.  It really is magic at your fingertips!  Control your security, your warmth, your entertainment – all from one wireless touchpad.  We'll give you access to a catalogue full of features and options – and we'll show you how to make the most of it all, too!
Supporting free consultations without obligation, if you are interested in enhancing your home through smart design – whether it's to enhance accessibility or to upgrade your entertainment suite – we will happily supply, install, program and demonstrate it all for you.  This means that – even when all our work is finished – we'll show you how to use it all to your advantage!
If smart home technology and the allure of a home cinema is proving more than intriguing, call Bright Electricians today on 02032692075 to arrange for a free consultation!  Bring your home into the modern age with just a few touches.